Madeira's top 5 holiday resorts - Number 2 - Canico De Baixo
Stunning sea views, romantic walks and classic Madeiran restaurants the small town of Canico has a lot to offer.
Caniço
From Madeira airport it is only about a 10km drive to the centre of Caniço. As with Funchal the cheapest route is by public transport but this would mean taking a trip into the city (Funchal) first and then another bus trip back to Caniço, which just isn't practical with suitcases. Other options would be to take a taxi directly from the airport or to use R&N transfer services,
(See Here)
which are around the same price as a taxi and a lot more reliable. The other more popular way is to take a hire car from the airport.
(See Here)
Madeira's motorway system (Via Rapida) is new and has made it very easy to get a round the island. The recent motorway build is a feat of engineering genius that has created dozens of tunnels all over the island making places accessible in minutes when it used to take hours. However, try not to see the whole island this way, do take a couple of the old roads as this is where you will find the views I mentioned in the previous Funchal blog!
Caniço is a town of two halves.
Caniço town is nestled up in the hills and has a real old world Madeira charm about it. It has a beautiful little town square, which often hosts small fetes and markets and a number of eateries that cater to the tourist palette as well as the local. It's a great idea to try the local "Tasca's" for a true experience of life in Madeira. There is a also a newly built shopping centre with supermarkets, food court, hairdressers and other conveniences should you need them.
Caniço de Baixo
Caniço de Baixo ( means Caniço Lower) is the second half of this lovely town. This part of the town is on the other side of the Via Rapida and is at sea level. This is the more touristic area and its here you will find most of the hotels in the area. This resort has a real sleepy atmosphere and some fantastic views. Half of the resort is on a cliff overlooking the Atlantic and you will find one of the best examples of this at the popular Inn and Art restaurant and bar. Here you can sit outside in the terrace overlooking the Atlantic. Fantastic!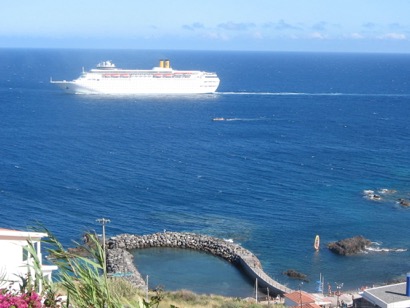 Reis Magos
Reis Magos is a small, affluent area just to the left of Caniço De Baixo. Although still part of Caniço the area is well known for its beach. The beach is home to many windsurfers and is used in the summer by locals and tourists alike. There are also a couple of small bars on the beach and a great little fish restaurant. The area was upgraded around 10 years ago and now has a promenade that reaches around to Caniço de Baixo. Great if you fancy a quiet stroll. Reis Magos has two large hotels but apart from that it is mostly private homes.
Buses that run every 20 mins connect all of these areas from 6am – midnight. You can also get a bus directly to Funchal from any of these areas.
As with Funchal throughout the year there are many Events, Concerts and Festivals that should get you in the spirit of Madeira. All itineraries can be picked up from the local tourist information office. Accommodation in Caniço varies from 5 star hotels to Small independents to Individual apartments. The areas have been recently regenerated so most of the rental apartments are of good quality. I would recommend the lower areas Caniço de Baixo or Reis Magos for stays in this area as you cannot beat the Sea Views here.
Pros – Lazy Days, Stunning Views, Great walks and local restaurants.
Cons – Very Quiet (what I call "read a book holiday")
Holidays For – Honeymooners, Couples, Seniors, Young Families.