Madeira Flower Festival 2016
It is a celebration of the springtime and all of the beautiful flowers that typically bloom in that season. The 2016 festival will begin on April 7th and end on April 13th and it will take place in the downtown streets of the city of Funchal.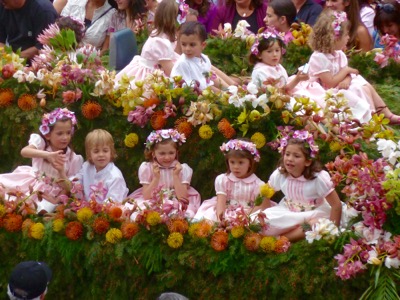 This is a great time to visit the island of Madeira, as you will be able to see this important traditional festival and learn a little bit about the culture of this gorgeous destination. Plan your trip so that you can join in the fun at the Madeira Flower Festival!
A Festival of Bright and Beautiful Blooms
The Flower Festival represents rebirth and metamorphosis, fertility and abundance. The celebration lasts for four days and includes a gorgeous display of tropical flowers as well as music and floral carpets. These carpets of flowers are strategically exhibited along the streets at different points and there are competitions held to find the best decorated shop windows.
It begins on a Saturday, when thousands of children dressed in traditional clothing flock to the Praca do Municipio to build a mural of flowers known as the Wall of Hope - which is a tradition that is not only nice to look at but very meaningful as well. The Wall of Hope is a beautiful and poetic symbol of the hope for a more peaceful future without war and strife.
A Bright and Exciting Flower Display
The best part of the festival is the Flower Festival Parade, a loud, exciting and unforgettable celebration. The event really is a treat for photographers, as the bright colours are a feast for the eyes. Also, the lovely spring flowers leave a sweet perfume in the air that makes the entire city smell amazing.
The Festival Parade
During the parade hundreds of dancers clad in colourful clothing are accompanied by enormous parade floats that make their way through the main streets of Funchal. Another highlight of the festival is the great creative display of tropical flowers by the local flower growers on the Largo da Restauracao.
Traditional Menus
Another aspect of the festival includes some of the local restaurants in the area around Rua dos Ferreiros, Rua da Queimada de Baixo, Rua da Queimada de Cima and Rua de Bispo. These top notch local restaurants will be featuring special traditional menus and they will be offering a wide selection of local wine and food. This is a great opportunity to taste some of the best local foods while you are visiting the island of Madeira. The streets outside of these restaurants will also be beautifully decorated and there will be entertainment featured - from brass bands to singing groups.
Be sure to visit Madeira in May so that you can take part in this exciting festival and celebrate the colourful blooms of springtime!