Madeira's top 5 holiday resorts - Number 1 - Funchal
Of course this is purely subjective, and is just my humble opinion but I will try and cover the pros and cons of each of Madeira's resorts in these blogs and will leave it up to you to make your own decision.
Madeira is an unusual tourist destination for many, in the sense that unlike its other European contemporaries it's resorts', do not really have a "hub" or a "street" filled with bars, restaurants and touts. Of course, for some this is the whole reason why they love the island and it's not to say that it does not have its own share of fantastic restaurants, local tavern's (Tasca's), great bars and a few nightclubs, its just that you may have to look a little harder to find them.
FUNCHAL
Visitors arriving to Madeira airport, around 20km from the centre of Funchal have a few transfer options available to them. The cheapest route into the city is of course the Aerobus, which runs almost every hour
(See timetable)
and costs 5€ per person one way or €8 return. Its route takes you from the airport arrivals along the motorway (Via Rapida) through most of the hotel areas of Funchal then on to Praia Fermosa, which is the last stop. Whilst I understand that this is probably the most cost effective way to arrive in Funchal, for most independent travellers the convenient option would certainly be a door-to-door service offered by numerous taxis waiting outside the arrivals hall.
Like most resorts Taxis can be unpredictable so if like me you like all your T's crossed before you get there then maybe a transfer service would be right for you. At the same cost of a Taxi it's always nice to see your name on a board in the arrivals hall and know that you will be taken directly to your destination by someone that knows where they are going.
(See Here)
. Maybe Car hire is your thing and when I can I always recommend it. Madeira is one of the most beautiful islands in Europe and it is definitely worth taking a drive around the island and experiencing the breathtaking sites and stunning views for your self.
(See Here)
.
Whatever method you choose for your transfer your first impression of Funchal will be of its beauty and its clean, relaxed atmosphere even though half of the islands, population reside here.
Although Funchal is the commercial and cultural centre of Madeira the fact that it also works as a beautiful holiday resort is often surprising to visitors.
Funchal is most definitely the busiest resort on the island but don't expect to find seas of drunken tourists and party animals. Its just not that type of Island / Holiday. It has a quiet sophistication and an air of "class" about its evenings. There are many beautiful restaurants and a number of bars dotted around the center. All age groups mix seamlessly enjoying the comfort of the same bars and restaurants as each other. By day, the city has a dual character in that you will see many of the locals busily going about their day-to-day duties, office workers, bankers, hoteliers etc compare that to the holidaymakers calmly strolling through the streets with ice creams, sitting in the local cafes watching the day go by or watching the enormous cruise ships sailing on and out of the port.
Throughout the year there is also a full program of events, Concerts, Exhibitions, Festivals and Theatre productions that should appeal to most tastes. The forthcoming cultural itinerary can be picked up in advance from the local tourist information office.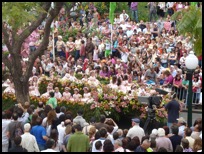 A couple of Events that should be mentioned are the annual Carnival (Normally around early February) The annual Flower Festival (May) and also the New Year Fireworks display which has been declared the worlds largest by the Guiness book of records.
Accommodation in Funchal tends to be on the high standard end of the scale. Most of the apartments and properties have been built within the past 10-15 years so they are still in good condition and have all modern facilities built in. The newer properties tend to be around the Monumental area.
Pros - In the thick of it, Busy Days, Lots to see and do.
Cons - Can be congested, Busy with cruise ship day trippers, Spread out.
Holidays For - First time to Madeira, Couples, Seniors, Families.